Essential info for tourists visiting Thailand
Saturday 24 May, 2014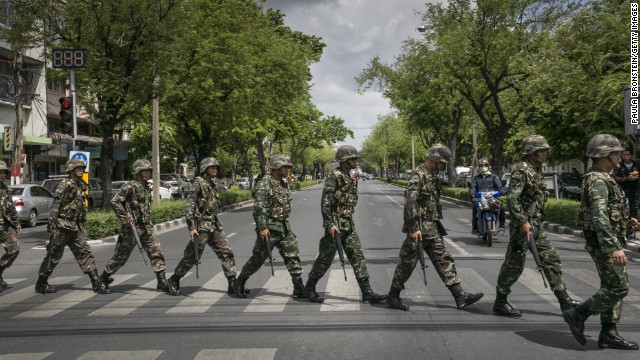 Situation Update: Thailand Political Developments
Issued at Bangkok at 13.30 hrs. (GMT+7) on 24 May 2014
Gen Prayuth Chan-ocha, leader of the coup makers (National Peace and Order Maintaining Council – NPOMC), said the council would remain in place until reform of political, economic and social institutions had been completed and a fresh general election had been held.
With a nationwide curfew (from 22.00 – 05.00 hours) currently being the only implication on people's everyday lives, life goes on as per normal in Bangkok and throughout Thailand.
Transport
All airports throughout Thailand, including at key international gateways – Bangkok (Suvarnabhumi and Don Mueang), Phuket, Ko Samui, Hat Yai and Chiang Mai – are open and operating as per normal. Airlines continue to operate all incoming and outgoing flights as per normal.
The NPOMC offers leniency to all air passengers with arrival and departure flights scheduled during curfew, allowing them to travel to and from the airports at any time as usual.
Other modes of transport, by road, rail and waterway, are also operating as per normal throughout Thailand, including in key tourist destinations, such as, Bangkok, Pattaya, Phuket, Ko Samui, Chiang Mai and Hat Yai.
Tourism-related businesses and services
Businesses, including hotels, spas, restaurants, entertainment venues, cinemas, convention centres, shopping malls, superstores, convenient stores, banks, petrol and gas stations and the likes are open and operating as per normal, but operating hours have been adjusted to comply with the curfew. Hospitals and medical personal are permitted to carry on with their normal operating hours.
Telephone both landline and mobile and Internet services are available 24/7 as per normal. NPOMC told the public not to believe rumours that the internet would be shutdown.
Tourism-related businesses and services in key tourist destinations, such as, Bangkok, Phuket, Chiang Mai, Hat Yai and Ko Samui are operating as per normal. Except for Bangkok, all other tourist destinations see a limited military presence with respective TAT domestic offices reporting a "business as usual" in key tourist destinations.
In Bangkok, there is also a "business as usual" feel as local residents are carrying on with their lives as per normal. All major tourist attractions in the Thai capital, including the Temple of the Emerald Buddha, the Grand Palace and the Temple of Dawn, are open as per normal. Tourists can visit all attractions using the usual means of transport, including buses, vans and car transfers by tour companies, taxis, the Skytrain, the subway or the boat and ferry services.
Info for international visitors entering the Bangkok Metropolitan Area
The following measures are prepared for travellers travelling to Bangkok and the immediate vicinity:
Individual travellers – both tourists and foreign residents – are advised to keep their passports and other travel documents handy at all times, in case they are required for inspection by security officers.
Group travellers on tour coaches, accompanied by a tour guide or tour leader, are allowed to pass through the checkpoints without any worry.
Taxi services at Suvarnabhumi Airport are available 24 hours at the Platform of the Passenger Terminal on the 1st Floor, Gates 4 and 7. There are 6,000 – 7,000 authorised taxis with Suvarnabhumi Airport stickers displayed on the front windscreen. Security checkpoint officers will allow access for these vehicles.
Any passenger who cannot find a mean of transport out of Suvarnabhumi Airport during curfew may use the facilities available at the CIP Lounges 1-4, located on the 3rd floor of the Passenger Terminal.
The shuttle bus service between Suvarnabhumi and Don Mueang International Airports are operating as per normal.
For more information, contact Survarnabhumi Airport Call Centre Tel: 1722.
Visa and checkpoints
Tourists can continue to apply for visa as usual as the NPOMC has called for civil servants at all ministries and government agencies to carry on with their normal duties.
All international checkpoints – airports, border checkpoints and sea ports – are open and operating as per normal.
Tourist hotlines
Tourists visiting Thailand can contact the following numbers for further information and assistance:
TAT Call Centre 1672
Tourist Police Call Centre 1155
Traffic Police Call Centre 1197
BMTA (city bus and van service) Call Centre 1348
BTS Hotline +66 (0) 2617 6000
MRT Customer Relations Center +66 (0) 2624 5200
SRT (train service) Call Centre 1690
Transport Co., Ltd., (inter-provincial bus service) Call Centre 1490
AOT (Suvarnabhumi Airport) Call Centre 1722
Don Mueang Airport Call Centre +66 (0) 2535 3861, (0) 2535 3863
Thai Airways International Call Centre +66 (0) 2356 1111
Bangkok Airways Call Centre 1771
Nok Air Call Centre 1318
Thai AirAsia Call Centre +66 (0) 2515 9999

- See more at: http://www.tatnews.org/essential-info-for-tourists-visiting-thailand/#sthash.q1bJCU19.dpuf